Rick Alden, The Willy Wonka of Skullcandy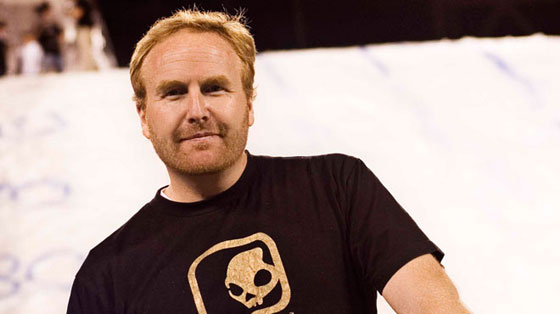 We can safely assume that most of us know what Skullcandy is right? Well, if you do skip this paragraph. If you don't, well where have you been for the last 8 years? Well anyway, Skullcandy are a pair of headphones that has a skull as its logo. To simply put, Skullcandy is a company that sells hands free audio products that enable users to be able to listen to music at high quality, while having that hip fresh look to them. Surprisingly, the music quality is pretty good, they have very nice bass subwoofers that do not damage ears.
HOW DID THEY START OUT?
Rick Alden is the founder of Skullcandy, and simply started out promoting snowboarding events and began fiddling with his items. He eventually began selling bindings that holds skis and snowboards together with the user.
One day, while he was hauling to the top of a Park City peak for another powder run, he had to pull out his ear buds from his music player and use them to answer his phone. However, an idea suddenly occurred to him. "What if there were headphones that could seamlessly switch from music to phone calls? And what if they looked good as they worked? That was when Skullcandy was born.
THE BIRTH OF SKULLCANDY
One of the first products that came out before Skullcandy became official, was a set of headphones called Skullcrushers. They were designed to appeal to skateboarders and snowboarders who loved a ton of bass.
So Long story short, the Skullcandy product was a success. In a sea of black and white we became a groundswell of color and style that the world had been waiting for. Skullcandy's commitment to counterculture and self-expression scratched the audio itch of core up-and-comers and underdogs that nobody else could reach. They have teamed up with kindred risk takers and pioneers living at full volume like artists, athletes, DJs and helped grow events that were far away from the main stage and mainstream. Skullcandy's street cred grew and grew until they boldly secured their place on store shelves and the heads of trendsetters and innovators.
WHAT MAKES RICK ALDEN SO SUCCESSFUL?
Rick is extremely driven by his passions, just like his work with skating, snowboarding, and the art of tinkering in his garage. He is all about getting the job done and this mindset attracted many individuals who share the same mindset as him. With him and his partners, they all had the attitude of driving this headphone and phone idea into the market.
There were many guarantees with the product such as: "If it doesn't sell, we'll buy it all back; we'll rotate to get the best product mix." Luckily, they never bought anything back.
They have always wanted to build their tech into other gear. Implementing audio into helmets, backpacks etc. So they took this idea to one of the top producers of snowboard and ski helmets, Giro. They loved the idea of putting speakers into their ear pads and wiring, not just music but cell phone functionality as well and agreed to print the tagline "Powered by Skullcandy" And that's when their business soared.
Next, Rick would going to shops asking his potential clients to sell his products. Certain stores would initially refuse the offer because they thought his product were headphones, however, he pointed out the Giro helmet with speakers for them, which changed their minds.
Next, he pitched sales to Best Buy, Target, and Circuit City. He didn't expect these companies to say yes to his offer, and wanted to buy his product in large amounts. However, he wasn't sure how he could build that much product to meet his demands. So he found a Chinese manufacturer from China and was able to deliver his products to his chains.
SKULLCANDY TODAY
Today Skullcandy is a global brand bringing the noise and pushing boundaries far and wide. They have successfully modernized audio and leveled the playing field by making high fidelity affordable and high style attainable . More importantly They have designed their headphones to be used and abused, not put on a shelf or in some fancy case. They are made to be a trusty sidekick riding with you through thick and thin as you charge hard at everything you do.