Only 10 Companies Control Almost Everything We Eat!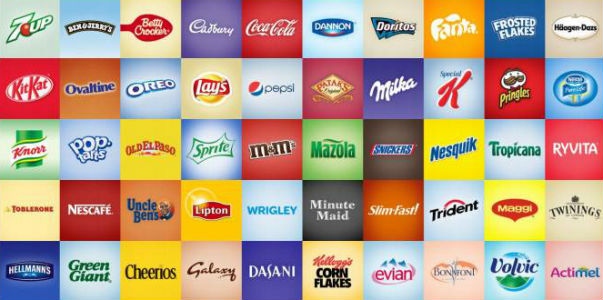 Did you know that most of the products in the groceries we buy are actually sold by just 10 companies?
Most people would think that the products we buy from grocery stores are from various different companies. In reality, these 10 companies, which are parent companies by the way, own these sub businesses where it enables them to sell products that are seemingly from different companies. Well my friend, here are the 10 companies that control almost everything we eat:
Kraft Foods – Founded in 1903 by James Kraft, and it is now the second largest producer of packaged goods in the world. Their goods are sold in 155 countries.
Nestle SA – Nestle is the world's largest producer of food products, boasting a record level of annual turnover.
Procter & Gamble- The global market leader in consumer products, Procter & Gamble is also the largest advertising company on the planet, spending around $8 billion on advertising a year. Its best-known brands include Fairy, Ariel and Lenor, as well as Pampers, Tampax, Head & Shoulders, Pantene, Old Spice, Hugo Boss, dolce & Gabbana, Gucci…and many more.   
Johnson & Johnson – Cosmetics, hygiene products and medical equipment are among the things that Johnson & Johnson produces through its 230+ subsidiary companies. They also make a wide range of pharmaceuticals and body care products, including Acuvue and Penaten.
Unilever – One of the leading producers of household cleaning products. Unilever also makes plenty of the food you consume, as well as the perfume you wear.
Mars, Inc. – The chances are that each and every one of us consumes products owned by Mars on a daily basis. They make some of the most popular sweets, including M&M's, Snickers, Mars, Milky Way, Skittles, Twix, Bounty, Celebrations, and Starburst, as well as the food we give to our pets in the form of Pedigree, Whiskas, and Kitekat. Among their savoury products are Uncle Ben's and Dolmio.
Kellogg's – Founded as the Battle Creek Toasted Corn Flake Company in 1906, in Michigan, USA, Kellogg's is now one of the largest producers of breakfast cereals and convenience food products in the world. 
General Mills, inc – One of the world's largest corporations, General Mills, Inc. focuses on the production of food products, toys and clothes, and also owns an extensive network of restaurants. Some of their best known products include the Green Giant brands of canned vegetables, premium-brand ice cream Häagen-Daz, and Nature Valley cereal bars.
Pepsi Co – PepsiCo was formed in 1965, when The Pepsi Cola Company merged with Frito Lay. Its products include the drinks 7up, Mountain Dew and Tropicana as well as Walkers Crisps, and Cheetos.
Coca – cola- The largest producer of nonalcoholic beverages, concentrates and syrups in the world, Coca-Cola is also one of the biggest companies in the USA. Its products, which include not only the eponymous soft drink but also Fanta, Sprite, Schweppes, and Bon Aqua, are sold in more than 200 countries.
***BASED ON BRIGHTSIDE.ME***